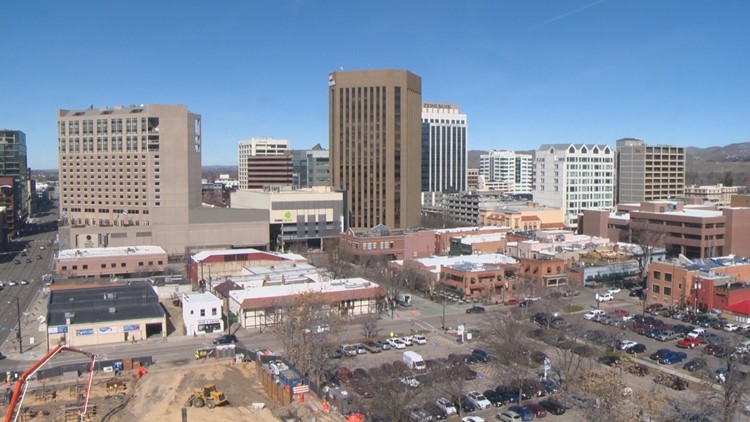 Boise grew by about 15 percent from 2010 to 2017.
BOISE, Idaho — While population growth is slowing nationwide, some U.S. cities are booming. Many of them are in the Southeast and West.
24/7 Wall Street has released its list of the fastest growing cities in the U.S. and Boise is ranked 20 out of the top 25. They review percentage change in the populations of 382 U.S. metro area between 2010 and 2017. Boise grew by almost 15 percent… Continue reading →
We did it! Boise tops yet another national list; this time for the awesome dog parks that are all around the city. According to Boise Weekly, the Trust for Public Land has named Boise the top city for dog parks in the country. The Center for Park Excellence, a division of Trust for Public Land collected data from the nation's 100 largest city park systems, and concluded that Boise should take the No. 1 spot partly because of the amount of parks dedicated to… Continue reading →
In a city with a row of downtown restaurants that source locally and boast picture-perfect patios, plus three new taco eateries, two acclaimed hotel restaurants and a slew of specialty food shops, there is one place where you might have to wait in line.… Continue reading →
BY NICOLE BLANCHARD
March 01, 2018 11:27 AM
By all metrics, Boise is booming, according to a new Forbes list of the fastest-growing cities in the country.
Idaho's capital swept the competition, exceeding 2017 expansion projections "by nearly ever metric that matters," the business magazine wrote. And according to Moody's Analytics, the firm that provides data for Forbes' annual list, Boise's growth spurt is likely to continue. Boise ranked 11th on last year's list.
"(Boise has) the pieces in place. It's got the location, it's got low cost, a healthy tech presence," Moody's senior economist Adam Kamins told… Continue reading →
Forbes' annual list of America's fastest-growing cities provides a holistic picture of places on the upswing. We look at growth of population, employment, wages and economic output. We also use home price growth as a proxy for wealth. Here are the 25 metropolitan areas (including divisions) across the country experiencing the biggest overall surges, plus the growth rates and projections that got them on the list.
For the methodology and trends behind this list read: America's Fastest-Growing Cities 2018
1. Boise City-ID… Continue reading →
Click on either link below to view the report: 
#2 – Boise, Idaho
Boise is an education city, so if you want to attend or work for Boise State University, the area's largest employer, this is the community for you. However, it's also an outdoor community, with more than 28 miles of pathways and easy access to mountains, deserts, and rivers. Throw in a reputation for friendliness and affordable living, and it's pretty easy to see why so many people love to call Boise home.
Boise's Ratings
(Compared to the other cities on this list)